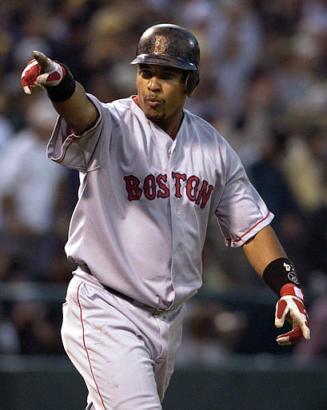 Sox reclaim first place and keep rolling. In the midst of a six game winning streak where they've dominated the (then-)surging Cleveland Indians and now the Phillies on the road, the Orioles start sliding and, on Friday night, we inched into first place by a half a game and today we took 1.5 game lead on the O's. The boys are looking good and everything is coming into place going into the All Star break. But first, they'll be heading to beautiful Arlington where they'll take on the Rangers and I, your handsome host, will be perched six rows behind homeplate. I'll be there for the first of the three-game series and, hopefully (yet I have little doubt), it'll be televised somewhere. So be on the lookout for me.
Anyhow, hate to bore everyone with a sports update, but I figured taking over the East was deserving of the interruption.
Meanwhile, Jeter (Robin) ponders quietly on why (WHY!?) the Stanks are at .500 and only a half game from slipping into fourth place into the division. And, Todd, you're right, heads are gonna roll if PayRod and the boys get swept at home by their lowly crosstown counterparts, the Mets.
Haha, those "who's your daddy?" chants are SO 2003. Losers.
This is the look of a man who just crapped 200 million dollars into his diaper.