#12
BLACK MOON

ENTA DA STAGE

1993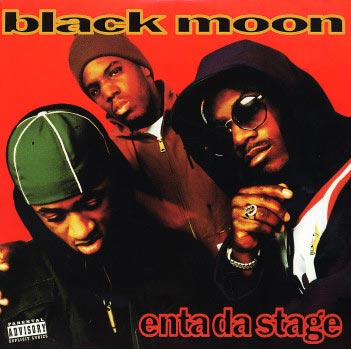 While some might suggest
Da Shinin'
as the best album to come from Boot Camp, I've always been a Black Moon head and
Enta Da Stage
, to me, stands head and shoulders above any of the spinoffs. In fact (now you're just talking crazy),
Enta Da Stage
also outshines other quinessential 1993-1996 NYC records. That's right, that includes
Illmatic
and
The Infamous
. There's one from this era it
doesn't
top, but that's later. Please leave your pro-Nas sentiments in the comments section below.
Under the lead of raucous and rambunctious emcees Buckshot and Excellerator,
Enta
is a beautiful yet grimy, flashy yet gritty depiction of the NYC that would later become the backdrop for the Hova, Fiddy and Biggie. It would also essentially serve as a vital bridge between NYC's early years of EPMD, Kane, LL, Brand Nubian and others and the elitist Jansport uprising of the late 1990s.
Whatever it represents, it's a monster. And it marks the pinnacle of Evil Dee's career displaying his exact and never-faulty ear for the perfect level, pitch and tempo. And
that bass
! One thing I'm sure of, if nothing else, is this
: Enta Da Stage
is solely responsible for the total destruction of my Buick Century's factory sound system.
I will make this claim before departing for the evening:
Enta Da Stage
is better than more than three quarters of the albums you own. There is no disputing this. Just accept it and go buy this record and stop frontin.
Highlights:
"Powaful Impak!"
"Who Got Da Props?"
"Buck 'Em Down"
"How Many MC's..."
"U Da Man"