I'll say it's been long overdue. Many of you say it's the only real reason you visit THE ROOT DOWN. That sucks, but whaddya gon' do? I know my market and unfortunately the shakeface stuck and people want more.
The following photos were taken at a small get-together of Chuckheads just before July 4th. The battle of Shakeface against Chuckhead was the stuff that births legends. In fact, some might have been born that night. The heroic clutch performances of a few Chuckheads (and supporters) made what was just another summer night one of historic proportions.
Here's the lowdown.
First inning we threw everyone's favorite residential hothead: Angry Tim. A little shaky out of the gate, Angry came through in the end with the following contribution.
Lucky for us, he's
still
unable to stick the landing and his shakeface came up short of greatness and the Chuckheads take an early lead. Chuckheads 1, Shakefaces 0.
Inning number two went quite the same way. It was a brutal fight that saw Joel looking down the barrel of a mighty shakeface. Joel was a rookie until this night when he became a veteran. The shakeface
almost
won, but Joel's tenacity pulled through in the end.
Shakefaces almost got the better of Joel. In fact, if he was about two beers left of good judgement, we might not have secured this inning. Chuckheads extend lead to 2-0.
Here's where it got tricky. The always-clutch Steve came in for the third inning and completely blew his opportunity to put another notch against the Shakefaces. I mean, he didn't even stand a chance. The exposed his every weakness and defeated Chuckhead Steve easily. Not sure where we went wrong this inning, but Steve took it pretty hard. But the Shakeface win in the third inning gave us this wonderful moment in photographic history.
I've seen this dude bounce back though. You can't keep him down. If you down him, you better kill him because he'll keep coming and coming and coming. But now our lead is narrowed to 2-1. This inning sure was a heartbreaker.
They threw me in for the fourth inning. Now, people know my history with Shakefaces. They always beat me. I mean, I succomb to the sheer power and velocity of the Shakeface on a regular basis. But tonight, I came correct.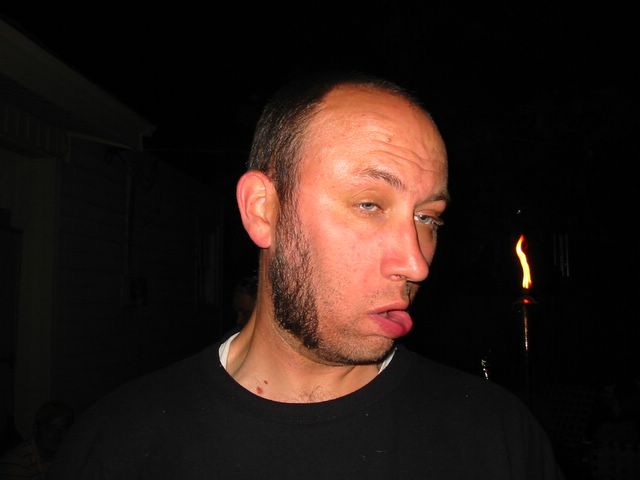 This is the kinda play you expect out of your veterans. Right when you think they lost it, they come bustin through with a collosal performance. I nailed it and the Shakefaces didn't get the better of me. Chuckheads lead 3-1.
Fifth inning was to be a very pivotal inning in the game. It always is. Because of this, we took a chance and threw in a couple of Chuckhead
Supporters.
It was chancy, yes, given they weren't in the lineup or even on the roster, but being short a few key players, we decided to give it a shot. First was Billy. Like a col' pimp, he stepped up and gave us an incredible shake, but no Shakeface. Chuckheads, for a moment, would take a quiet 4-1 lead. Here's an account of Billy's performance.
The other half of this not-quite-legit tandem was Mark. The Shakefaces gave him such a rattlin' his upper teeth fell out. Now, I've seen some beatings dealt out by the Shakefaces, but none this severe and, utterly decency-defying. It was hard to watch as a Mark, who volunteered in this exhibition game, would fall to the mighty might of the Shakefaces.
Because of the attention that Mark attracted from this beating, some onlookers began to question his membership of the Chuckheads squad. Then Billy came into question. We knew we had been exposed. The Shakefaces were awarded three points: one for the easy defeat of a now toothless Mark and two for both of the non-roster participants. We'll never pull that crap again. I knew it was a dumb idea. Shakefaces take the lead on no more than character: 3-4.
Sixth inning. We had to throw a veteran in there, but we decided against it. We had reliable rookies. I mean, we're undefeated for crying out loud. I called for Matt to jump into action. What can I say, the kid
loves the game
and he came through hardcore.
He loves the game. Give the man props. Tied ballgame, 4-4. Because of a the strong urging of the onlookers (and Chuckheads are sportsmen firstly and showmen second), we threw in another guy in hopes to lock down the lead and send it to the bullpen for the seventh.
It backfired horribly. David, in a rare moment of weakness, folded in his first matchup against the mighty Shakefaces. Completely embarassed of my horrible coaching move, I had to come back in the seventh for an encore in hopes of redeeming myself. Chuckheads once again trail, 4-5.
I opted to go with trusty Chuckhead in his freshman year, Trey. Dude didn't hesitate at all. He jumped in there and went right to work. No shake here. We're back to tied at 5-5.
I had to dig deep for my next performance. It's bottom of the seventh inning and my teammates needed me. I called this freaking exhibition so now I had to end it. No excuses. We were NOT to be defeated in the pre-season. That's weak. I pulled out my best stuff. That's what veterans do. When the dust cleared, there was much debate. Some said that it was definitely a Shakeface. I felt there was little debate and cooler heads would prevail.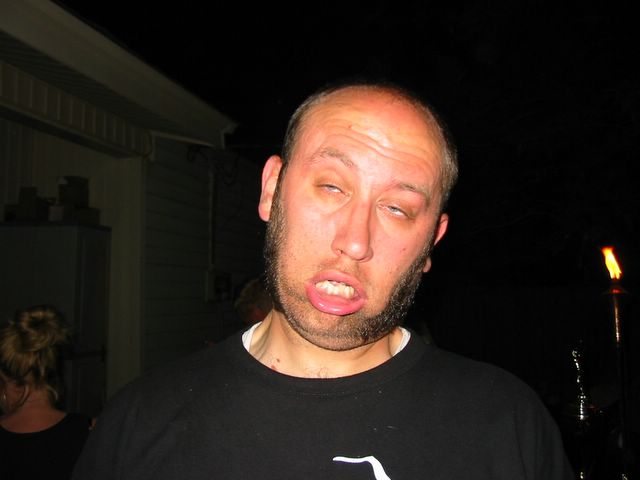 It was close. The Shakefaces were weighing in heavily on the amount of neck fat I had working and I explained to the officials that I had just underwent some rather drastic weight loss and the neck fat/double chins was something I was working through in the gym. Well, it was ruled a draw. We knew Chuck would never settle for a draw so I volunteered one more performance. Bad idea. With the score still tied at 5-5. What happened next I was not expecting. I got the meanest Shakeface dealt upon me. Granted, I've been beaten much worse, but given the circumstances, this one really stung.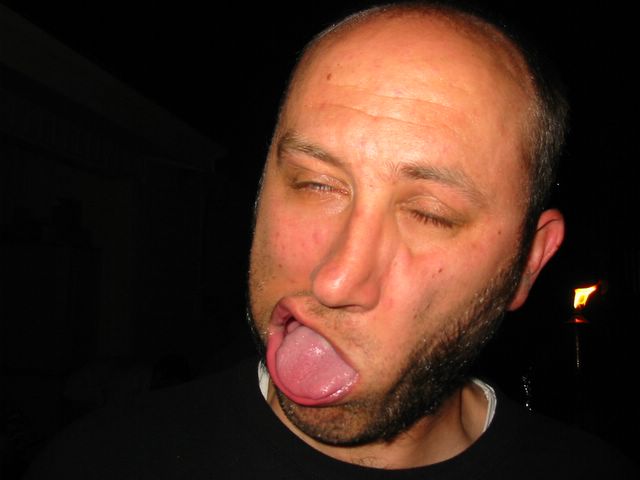 That night, Chuckheads suffered their first loss of the season. An unlikely loss too. I spent the next half hour apologizing to my squad for my lackluster performance and lazy, rule-bending coaching moves.
Lucky for us, we had photos to account for the battle. Chuckheads' sophomore season begins in late July. It's on.
Oh, and the name has officially been changed to
The Roundhouse
. "Chuckheads" will act as our nickname. Kinda like my name's j3, but my friends call me "good-fer-nuttin' nincompoop."
Tomorrow's Friday, in case you needed a reminder. Saturday is the official j3/my lovely wife Garage Sale. If you know where we live, we'll be open from 7am-2pm (that end time I know I will live to regret once that 95-degree heat begins to cook my brain like a pot roast). Come spend your money. Plenty of j3 personal effects for sale. No undergarmets though, ladies. Sorry. I had to draw the line there. This is a family-safe environment.