The other day, I'm making my way home from work listening to my shuffle (they make them white because they're like cocaine) and I got Fat Beats Radio (not to be confused with the previously mentioned Fat Laces). They're mixing through a straight-up assault of old ish and they fade out from Black Sheep's "Black With N.V." into 3rd Bass' "Wordz of Wizdom" and I just come alive. It's not that I ever forgot how incredibly dope these dudes were, but when the DJ was screaming over the track, "You don't even know about this! Who don't like this?! Who don't think this is dope?! NOBODY! 3rd Bass! Yikes!!"
One thing about "Wordz of Wizdom" is, without question, it ranks among my top three 3rd Bass songs. It hits so hard. Pete Nice blowing in with "Heart as hard as Chinese arithmetic!" and those drums hit so loud and nasty. Dudes were so fresh and not many people will ever know that. How come? Because no one's got any appreciation for the old ish. It's not a stretch to say that The Cactus Album and Derelicts of Dialect are among the greatest 100 hip hop recordings in the history of time, but, really, who would ever know?
Because the radio stations push nothing but the new stuff, really, as far as hip hop is concerned. They call it "urban" but it's really shoved on you like pop instead--force fed into the market place until, eventually, people are hypnotized into purchase. The power of radio as an advocate to purchase is still there, however, what they're advocating is garbage. I mean, have you heard the Diddy single? It's trash. Horrible. And people are getting mad rich off of radio. With the money in radio, you simply can't trust that they have artists and careers in their best interest. They just spin what they're told. Formats sell audiences to advertisers. Remember that. It's key. With that being said, where does that leave 3rd Bass?
I don't know anywhere in this nation where you can flip on a station and hear what is often referred to as "old school." People talk "old school" but you ask the average urban station listener and they call Dr. Dre's "Still D.R.E." old school. That ain't old school.
Last week on SoundScan, only three rap records landed in the top 50 records sold in the US. And, those three ranked at #6, #37 and #43--possibly the worst showing for the format in recent history. That's terrible. And rap radio is possibly at its very worst state in recent history. Here's my proposition. The old ish is the new ish and the new ish is the old ish.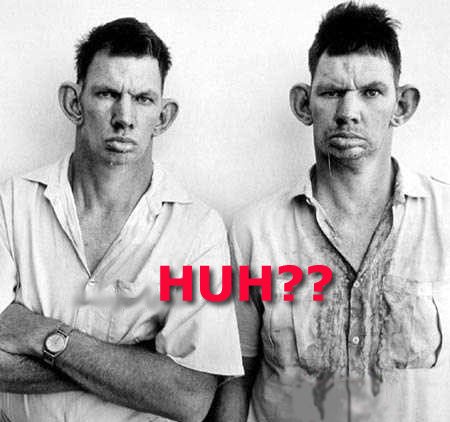 Two radio tycoons.

You dedicate 95% of your programming to old material and 5% (the lunch hour) to new up and coming artists. An hour is really all they're playing anyway, except that they're spreading that hour over 8-hour day parts. Here's the catch, you gotta play everything in chronological order from 20 years back. So here we are in 1986. In January, you can spin 1987 and 1986 records. We gotta take the power back.
In one hour you hear "Hold It Now Hit It," "Peter Piper," "Freaky Tales," "Ego Trippin'," some Schoolly D, some Stetsasonic. You basically have free reign to anything year, but it has to have released in 1986 or earlier. Sure, pretty slim pickins at first, but before you know it, you're trucking your way through the very foundation of hip hop and you're laying the ground work all over again. If popular music really works on a 20-year cycle, why is hip hop so damned stubborn in following suit? I mean, really, you'd think hip hop just want to forget the past. If it weren't for VH1, ain't no one knowing Melle Mel. Ain't no one caring.
Imagine it, though, you replace your Ludacris with Redman, Jeezy with Big Daddy Kane, Chingy with Fresh Prince, Lupe Fiasco with CL Smooth, the new Ice Cube with the ol' jehri curl Ice Cube, Black Eyed Peas with 3rd Bass, D4L with Digital Underground. Kids wouldn't know what to think, but ultimately, they'd have to listen because it would be all that would available to them. If they want to find new artists, drive them online. That's where they're going anyway. And then you have radioheads coming in to their local record store asking for Boogie Down Productions, K-Solo, Stet because that's all they're listening to.
It's just a thought. I just know the machine doesn't work right now and the charts are evidence of it. Music's is rapidly losing its value no matter what the marketing divisions of various labels and distributors would love you to believe. It's a matter of fact. We'll get how I arrive at that fact in a later discussion. We're heading into the peak season of the industry and the top title on the charts was Rod Stewart with 180,000 units sold nationwide. Pathetic. And, for the record, only five hip hop artists in the top 50 this week. And only 16 in the top 200 altogether. That'd be a whopping 8% of chart positions are rap records. Two years back that was probably closer to about 20-25%. Proof that the system is completely broken. If you could sell more than 75,000 copies of Ludacris in one week with that saturation at radio, you might have a counter-argument, but dude couldn't even crack 75K last week.
Support your old school. Because it doesn't suck.