Yeah, that's right--back like cooked crack. Just when you thought it was over. I'm just gonna keep comin and comin and comin. If you knock me down, you better make sure I'm dead. And if I'm dead, you better stack boulders on top of me until you can climb into the clouds. I got nine lives and I ain't even half way through my first. I'm the Rod Stewart of this muddah. I'm up earlier, go to bed later and I sleep with one eye open and a shotgun pointed at the bedroom door. Come find me.

Whatever.

Yep, I'm back up. In my new Boom Boom Room. Hung Rakim. Starting off my morning with Stevie Wonder on vinyl and a nice dark cup of coffee.

Alright, where do you wanna start?

Bought a house. Constructed in 1950. Great home, better neighborhood, friendly people. I walked to work the other day and it's a much longer walk. About twice the length of my old walk. No bird or dog attacks. However, I had to walk by a schoolhouse and you never know how creepy you are until you're around children or the elderly. I think I was the "suspicious man" that you always see news reports about. Certainly, bear-like facial hair doesn't help. It'll wear off. They'll get used to me.

Let's do the abridged version of the house story. If you want the expanded edition, uh, you won't get it from me. I'm actually quite tired of telling it. Here we go.

My lovely wife began looking for new homes. We found a spectacular fix'r up'r in a prestigious neighborhood here in the Yellow. We put in an offer come to find out that the legal owner of the house works for Coldwell Banker so our realtor couldn't sell us the house and we'd have to go to another realtor. Before we could make that decision, the place sold. And, on another note, Jax took a huge crap in their yard the other day on a walk around the park. We found another beautiful home on another really great block. It had two living rooms. We put in an offer and that evening the lady pulled it off the market for family reasons. Not deterred, we marched onward while our house was "showing well" (that's a nice industry term that really means nothing, we find out). We get an offer and also find a house we feel comfortable pursuing. When the papers were on the way, the woman making an offer on our house is diagnosed with cancer. I mean, it was that morning. Again, not deterred, our house went back up on the market and not long thereafter, another offer dropped down. We ended up selling our house and making some good cash that went to the upfront costs of our new house. The new house has three bedrooms, two bathrooms, a gas fireplace, an accessible attic and grass. There you go.
Bob Seger songs make feel alone and somber. I noticed that the other day when "Turn the Page" was playing. I really thought I liked him, but I felt quite lonely and sad at that moment. I'll get back to you on that one.
Found out in the move that I have entirely too much music. I'm getting rid of some crap. Just stuff I have no use for. Clint, I'll certainly try and get you some, but really it's mostly just really bad rock and jazz records that I've been holding onto because I wanted to be cool a party some day like it was something I understood and everyone was a numbnut for not understanding. In short, I don't really get it. In fact, some of this stuff gives me incredible headaches. I committed to getting rid of 15% of my compact discs which I achieved and I'm getting rid of some vinyl only because it almost snapped my back like a twig in the move. The vinyl just needs some downsizing. I just threw away a 12" of Tone Loc's "Funky Cold Medina."
The St. Louis Cardinals won the World Series. Good for my dad and grandfather. What a poor showing for the American League. Ugh. Oh well. Condolences go out to Bill's Tigers and, my man, the most gangsta manager in the league, Jimmy Leyland. The dude's a straight boss. The only manager in the league that shows up in cleats like he's ready to play. Like he'll sub himself in if that's what it means. The cat's so incredibly gangsta.

And, once again, I'm waiting for someone to tell me who woke up one day and decided that the Cardinal fans are the "classiest fan in baseball" and, more importantly, why? I didn't know there was an award. Did they get trophies for this? I just don't get it. You hear all the baseball announcers say it, even fans of other teams and, yet, not one person has given me enough evidence to prove or disprove the claim. "Classiest fan in baseball"? I'm going to just start something right now and see if it catches on by next season. The Red Sox fans are the sexiest fans in baseball. And this is true. Tell a friend.
Just put on my vinyl copy of Jungle Brothers Straight Out the Jungle. Thanks, Q.
Like an old man, I entered the local weatherman's challenge of guessing the first freeze here in the Yellow. I entered over a month ago and I said it would happen on October 23rd at exactly 2:10 in the morning. On the line was a large flat-screen television. As the day and time approached, I kept a close eye on the atmospheric conditions. That morning, there wasn't a cloud in the sky and it was steadily creeping down in temperature. The lowest official reading that morning was 34 degrees. Missed it by two degrees. But don't get it twisted, my estimates are sometimes dangerously, freakishly accurate. I'll be back next year. I want a walk-on job as a weatherman. Next year, they'll recognize.
Halloween's here. For the kids, it's all about the candy. For adult women, it's dressing as slutty as possible. Every party I've ever been to, 90% of the ladies are always wearing near nothing and explain that their costume is a "sexy insert character here ." "I'm a sexy cat." "I'm a sexy nurse." "I'm a sexy nun." "I'm a sexy tiger." "I'm a sexy witch." "I'm a sexy bunny." "I'm a sexy librarian." I don't get it. I mean, I do, but ladies need to put some clothes on and respect themselves.
Rory suggested I should show up in Red Sox gear and be a loser. Thanks, Rory. Interesting coming from a Yankee fan.
Just saw on the news that some kid in Abilene crawled into one of those arcade machines where you try and win stupid plush animals with a drop-down claw. Oh, those crazy Texans!
Snoop Dogg was arrested at the Bob Hope airport for possession of a firearm and marijuana. Snoop, did you not know how tight airport security is these days? Not all too coincidently, he has a new record coming out in late November--the same day as Jay-Z and 2Pac. I'm not suggesting anything, but it seems like a very dumb move that common sense would've prevented.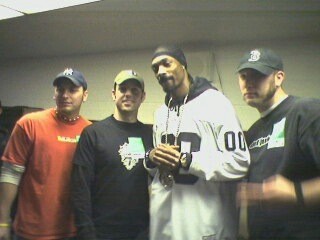 Funniest part of the report was when a reporter referred to his contraband as "the gat and his chronic"--sheesh.
Alright, I gotta get folks. Texas Tech will upset Texas today in Lubbock by the score of 38-34. You heard it here.