Yeah, so they give me an hour to sleep in and I wake up at 2 in the morning ready to go to work. What gives?
Yeah, it's now about 5 and I'm on my second cup of coffee. The only reason I haven't downed an entire pot yet is because I was hoping that fatigue would take me over and I'd fall back asleep.
The other night, she caught me sleepwalking for only the second time that she can remember. She said I walked into the bedroom in a panic saying that the "paint is shifting" but "not to worry because it'll only take two days to get the sale POP." She said that she wanted to wake me up but rather decided to enjoy me in my torturous state of sleeplessness. Thanks, honey. I'm lucky I didn't wake up drinking water out of the toilet or peeing in a houseplant.
Don't really understand sleepwalking. I think it's kinda creepy how I could navigate my way through a house that I've only been in for a week while still asleep. Oh well. Only second time in about seven years...I wouldn't consider it an outbreak.
All I gotta say is what in the world happened to overnight television. You would've thought that it improved over the years with cable television becoming so competitive more Americans working later and sleeping less. I mean, let's face it, the 8-hour night of sleep is a thing of the past. I guess no one told my lovely wife though. When I awoke at 2, I could pick from, count 'em, 28 different infomercials (out of 65 active channels), the eighth airing of
Children of the Corn
in the last two days, deer hunting on ESPN,
Matlock
,
Flight of the Navigator
or the 1981 werewolf classic,
The Howling
. I opted for
The Howling
where I discovered in my hazy fatigue that Dee Wallace was kinda hot. Dee would be later known as Mary, Elliott's mother in
E.T.
Let me tell you, in
The Howling
,
Cujo
and
The Hills Have Eyes
and the girl had it going on in that Jane Pauley way. That's all I'm sayin. Here's to you, Dee.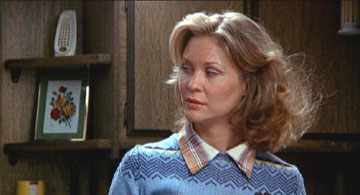 Man, this girl took some crap roles. Remember Critters? Or Popcorn? Frighteners? She's working hard for that money so you betta treat her right, ese. Curiously, the only dude who didn't do so well from himself after the E.T. boom was a kid named Robert MacNaughton who played the older brother, Michael. Man, this dude's career started in 1980 and ended eight roles later in 1987 on "Newhart." Wow, rough. Check him out and tell me if this dude doesn't scream "rockstar drug habit."
Damn, that's kinda cruel of me. It's just suspicious to me how everyone from that cast would launch to to so many more roles except for this cat.
Whoa, just did a search and in 2001, the Enquirer broke a story that he was sorting mail in a post office. Hmm. Yeah...drug habit.
Went to a Halloween/birthday party for the great Rory. Once again, the shakeface phenomenon takes over. The camera starts making its way around so everyone can cement images of their costumes and me, being without a costume, decide to leave a much more entertaining treat on the camera. We're waiting on the images (and may never get them because I have no idea who that dude was), but once I fired mine off, everyone in the room was doing it. Nothing gets the party hopping quicker and more effectively than a good shakeface. B'lee dat.
Man, I love Mondays. This one's gonna rule. It's now about 5:30 and I'm getting tired as I should have been all along, but I'm at the point of no return. Gonna let my wonderful brother bring in the new week. Don't sleepwalk, listen to Lord Finesse, no drinking out of the toilet and enjoy BroBro.
Holla atcha boy.