Take, for instance, the almighty Snoop. A few backstage passes, a couple of secret handshakes, and remember the rap hands:
No, I don't know these guys. Just note the hands.
No, this was from a recent visit to the AMA. Had passes through the label (thank you Interscope) and had a wonderful time with Snoop who could have quite possibly might have been one of the nicest guys in the business. I ain't too proud to be a little starstruck--it was definitely cool. But when Snoop says, "Block the door," like Nike says, just do it. Oh, and note the rap hands to the right.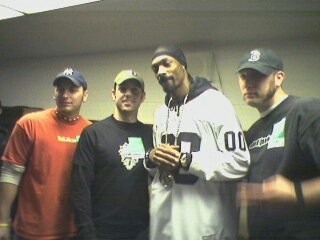 (from left) harley, mahan, snoop and tall, dark and handsome